CNN reported: "Few artists so completely dominate their field that their name becomes synonymous with the subject matter, but Lynn Matsuoka has succeeded in capturing the essence of (Japanese) Sumo and has won a loyal following along the way".
"Like Degas with his dancers, Lynn Matsuoka set out to depict the
particular beauty of performers who devote their lives to an all-encompassing craft, capturing the nuances of the world they create in the process. Her own devotion was noted, and doors opened that had never been opened before, to anyone".
Matsuoka's reportage artwork is Internationally known and collected by private & corporate collections and museums. The Artist is known also for her KABUKI artwork in Japan for 40+years. The color commentator on the NHK TV worldwide Sumo broadcast for 15 years, she has acted as liaison/translator for NBC sports, The Asia Society, President Carter & National Geographic Society among many others.
"Matsuoka's new works are defined by powerful, lyrical lines. Blessed with a gift of documentary story-telling fused with a rare visual craft, Matsuoka's art conjures up the poetic imagery of birds in flight and horses gliding over the earth…. her compelling work has thus earned over 40 international solo shows."
This award-winning artist has also worked with Major League Baseball, NFL, top Rock & Classic Musicians, Broadway Theater, Native Americans, major Ballet companies & Hawaiian Hula. She documented the Watergate hearings for ABC & CBS Network News before being invited to Japan to be a fashion illustrator for 2 major department stores. Matsuoka was chosen to document the Naval Court of Enquiry into the Ehimemaru/Greenville disaster at Pearl Harbor in 2001, the only artist allowed in the courtroom.
The Legendary Milton Glaser described Lynn Matsuoka as
"probably the greatest living reportage artist…"
Matsuoka's Equestrian artwork has gained attention in the Hamptons, home of the Hampton Classic, and in Wellington. Her first book "The Scent of Binsuke" about her life with the world of Sumo and her marriage to a top division Japanese SUMO wrestler, was published in Japan and quickly sold out. Her friend, Oscar de la Renta, a sumo fan, gifted her a wedding gown and attended the wedding in Tokyo.
Matsuoka is working now on the highly anticipated memoir of her life in Japan, embedded in the closed Traditional worlds of SUMO and KABUKI Theater, and life as a (mostly) single foreign woman in the inscrutable society of Japan.
The artist accepts Equestrian, Pet, and Human commissions.
The Portfolios of Equestrian, Polo, Tattoo artwork and the Japan collection can be seen by appointment and on the website, www.hamptonsartist.com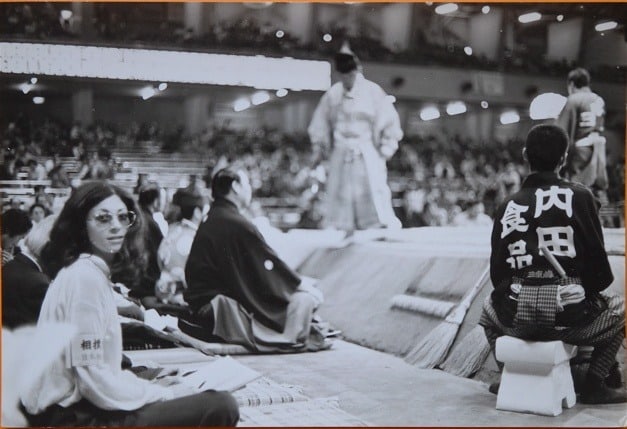 THE ARTIST Lynn Matsuoka sitting by the dohyo at the Tokyo tournament to start her drawing that day. Always got there early!
The Artist is surrounded by the Rikishi as she draws one of them
after practice one morning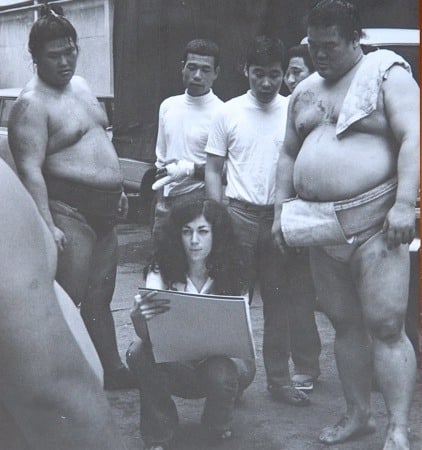 Born in New York City, Lynn studied art & music in Philadelphia and later studied at SVA in NYC with Jack Potter & Milton Glaser.

For Interviews, Press Inquiries, or More Information, please contact: Lynn Matsuoka Studio at:
email: artist@hamptonsartist.com